Treasure Village – II
Just 35 minutes drive from Sanathal Circle, S.P. Ring Road, located near Navkardham Tirth Bagodara, is an exclusive gated community having residential plots ranging from 300 sq.yrds. to 600 sq.yrds.
It is well connected to Saurashtra, Kutch, South & North Gujarat. Further various large scale industries, residential projects & number of proposed govt. projects surrounding makes it an ideal place for investment as well as weekend home.
Surrounding Development (Proposed)
DFC – Dedicated Freight Corridor
DMIC – Delhi Mumbai Industrial Corridor
Dholera SIR (Special Investment Region)
Greenfield International Airport near Dholera
Tourist & Religious places near by
Lothal (Ancient City of Harappan Civilization)
Navkardham Tirth, Bagodara
Maa Boot Bhavani Temple, Arnej
Ganeshji Temple, Ganpatpura
Entrance gate with security cabin
Surrounding compound wall
Common garden with club house
Internal roads
Plantation on both the sides of roads
Individual plot fencing
Approved construction plan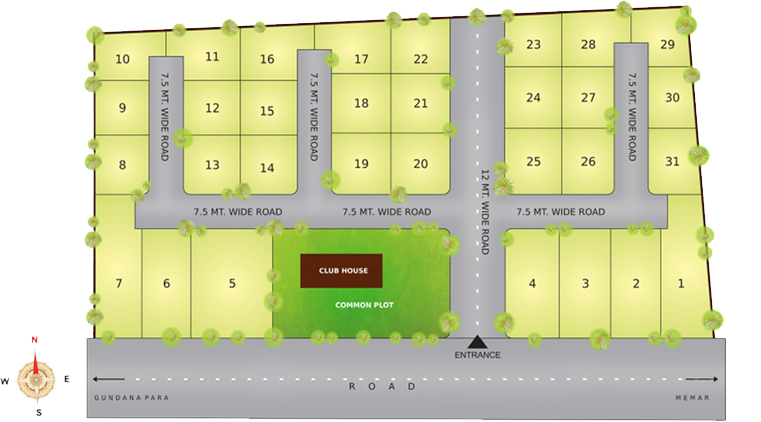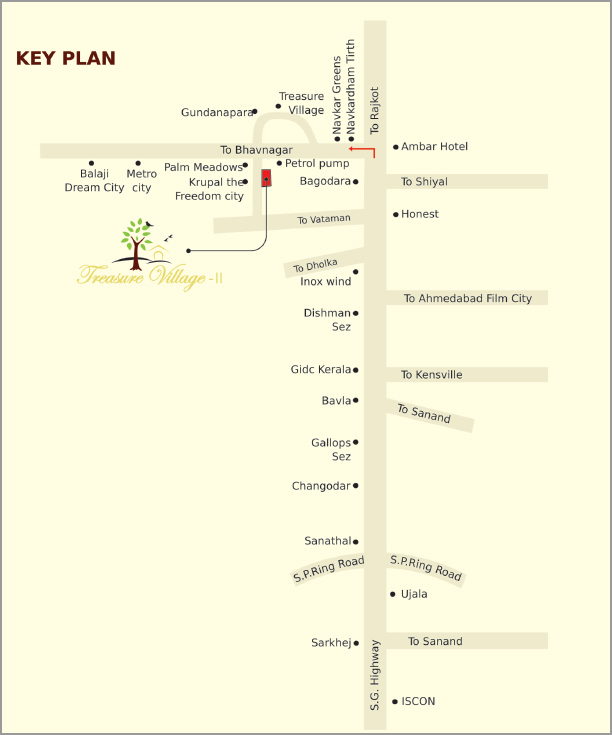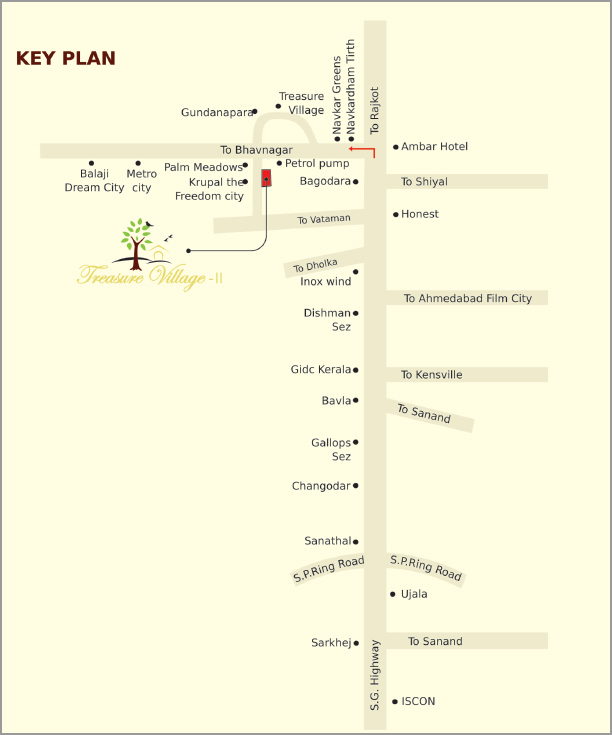 Treasure Village II
Plot Area
Plot No.

Area in Sq.Metre.

Area in Sq.Yard.

Carpet

Sup. Built.

Total

Carpet

Sup. Built.

Total

1

312.95

176.05

489

374.29

210.55

584.84

2

264.00

149.00

413

315.74

178.21

493.95

3

270.00

152.00

422

322.92

181.79

504.71

4

279.30

157.70

437

334.04

188.61

522.65

5

432.00

243.00

675

516.67

290.63

807.30

6

256.60

144.40

401

306.89

172.71

479.60

7

308.04

173.96

482

368.42

208.05

576.47

8

149.83

84.17

234

179.20

100.66

279.86

9

142.50

80.50

223

170.43

96.28

266.71

10

143.12

80.88

224

171.17

96.73

267.90

11

161.32

90.68

252

192.94

108.45

301.39

12

150.00

85.00

235

179.40

101.66

281.06

13

158.15

88.85

247

189.15

106.26

295.41

14

158.15

88.85

247

189.15

106.26

295.41

15

150.00

85.00

235

179.40

101.66

281.06

16

167.63

94.37

262

200.49

112.86

313.35

17

166.62

94.38

261

199.28

112.88

312.16

18

169.00

95.00

264

202.12

113.62

315.74

19

171.15

96.85

268

204.70

115.83

320.53

20

171.15

96.85

268

204.70

115.83

320.53

21

169.00

95.00

264

202.12

113.62

315.74

22

153.33

86.67

240

183.38

103.66

287.04

23

142.68

80.32

223

170.65

96.06

266.71

24

168.75

95.25

264

201.83

113.91

315.74

25

176.90

100.10

277

211.57

119.72

331.29

26

162.40

91.60

254

194.23

109.55

303.78

27

155.25

87.75

243

185.68

104.95

290.63

28

163.99

93.01

257

196.13

111.24

307.37

29

139.05

78.95

218

166.30

94.43

260.73

30

133.71

75.29

209

159.92

90.04

249.96

31

156.52

88.48

245

187.20

105.82

293.02
Coming Soon
   Site Address : Bh. Petrol Pump, Gundanapara, Bagodara – Bhavnagar Highway, Ta. Bavla, Dist. Ahmedabad